Want to start your own WordPress website? There's no better place than Rocket.Net to get started with. Read this Rocket.Net Hosting Review to know why.
Rocket.Net Review
Features
Rocket.Net has all the features and perks that you would need to run your WordPress website in the best way possible. However, you'll have limited access to the settings, and advanced features that developers might want to access. As a normal user, you don't have to do anything as everything is done for you by the Rocket.Net team. Which is one of the points of choosing a managed WordPress hosting. So, I don't see it as a downside but a plus one.
Support
Rocket.Net provides one of the best support that you can find. There are so many fully managed WordPress hosting nowadays but none of them are as good as Rocket.Net. I've been using this hosting for more than a year now and I can proudly say that I've been more than satisfied with their support and services.
Pricing
For the value and the amazing support that you get with Rocket.Net hosting, the price seems to be fair. However, there are some fully managed WordPress hosting that gives a good competition in terms of pricing. While most of us agree with their pricing, some might not. Personally, I do think that it is worth paying the amount for a better service. Unless you have a budget issue, I don't see any reason to not purchase Rocket.Net.
Overall, it's a great hosting that I have used and would recommend anyone to use. The only situation where I would not recommend it would be if you're just a beginner trying to figure out the blogging world or if you're not making any income from your website or business.
Otherwise, it's definitely the best Managed WordPress Hosting that I have used till now and it is definitely the hosting that I would recommend to professionals and business owners.
Quick Important Details
| | |
| --- | --- |
| | |
| | |
| | |
| | |
| | Yes (Cloudflare Enterprise) |
| | |
| 1-Click WordPress Installer: | |
| | Live Chat / Knowledge Base / Tickets |
Now let's talk about everything in details about Rocket hosting and figure out if it really the fastest and best Managed WordPress hosting.
Let's get going!
About Rocket.Net
Rocket.Net is one of the best fully managed WordPress hosting providers that is supporting thousands of WordPress websites.

Rocket.Net was founded in 2020 by Ben Gabler (Founder & CEO) and Josip Radan (Co-Founder & CXO) with the mission to accelerate, protect, and deliver WordPress to the customers in the best way possible.

They are obsessed with WordPress performance, security, and best-in-class customer satisfaction. The team behind Rocket Hosting has 17+ years of experience in the hosting and SaaS business.

Recently in 2021, they also partnered with HostPapa to accelerate the growth. HostPapa has been in the business since 2006 and brings in a lot of resources and learnings that would benefit Rocket.Net Hosting.

Rocket.Net puts security first, focuses on customers, is passionate about WordPress, and is an innovative company.
What Is Managed WordPress Hosting?
A Managed WordPress Hosting is a service designed to provide you with the best possible experience and performance for your websites built on top of WordPress CMS.

Most of the Managed WordPress Hosting providers such as Rocket.Net, Kinsta, Flywheel, SiteGround, etc. have their own custom interface to manage your websites and servers instead of the usual cPanel option.

You'll find the most intuitive and easy-to-use dashboards on these Managed Hosting Providers compared to any other type of hosting service.

Most of them also come with their own caching plugin and premium CDN for you. For example, SiteGround has a plugin called SG Optimizer for caching and Rocket.net comes with Cloudflare Enterprise solution.

To sum up, if you're looking for a hosting provider to start a WordPress website, your best choice would be to go with a Managed WordPress Hosting provider.

I highly recommend going with either Rocket.Net or Kinsta.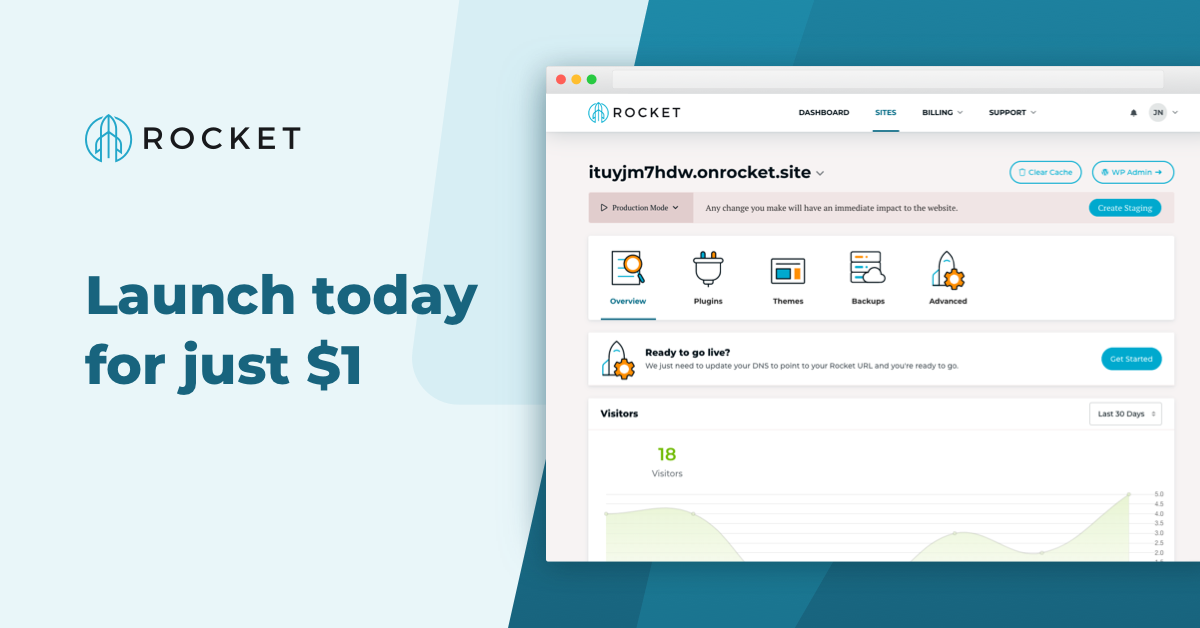 Rocket.Net Features
Although Rocket Hosting is relatively new, it already packs a lot of useful features to help you host the fastest possible WordPress websites with ease within a couple of minutes.

We'll discuss most of them in a bit but before that let's address some of the common features that are available with all the other Managed WordPress Hosting service providers.
Common Features Of Managed WordPress Hosting
Here's are some of the common features that you see in all truly Managed WordPress Hosting:
Superfast Server Response & Load Time
All of the hosting services that provide Managed WordPress Hosting are usually superfast with their server response and website load time.

You'll especially feel the difference on the backend of your WordPress website while working.

My first fully Managed WordPress Hosting experience started with SiteGround which was amazing and pretty cheap back then. There was no competition to them at all until they increased their pricing and it's as expensive as others now.

Second Managed WordPress Hosting that I used was WPX Hosting and that was great too.

And they finally, I used Rocket.Net for almost 2 years straight. And it's been the best hosting experience of my life besides a few minor issues at the beginning.

The point is, all the Managed WordPress Hosting providers come with superfast server response and website load time.
Better Security Than Others
As Managed WordPress Hosting providers are solely focused on WordPress websites only (obviously), it is easier for them to provide us with better security than others.

The fact that they don't have to worry about any other software being used on their servers apart from WordPress, makes their job easier to keep up with all the vulnerabilities and bugs.

It's very simple to understand really, when you are focused on one thing at a time, you can do it better than others. That's it.
Outstanding Expert Level Support
The same criteria apply to this department as well. As they only provide WordPress hosting, they only have to worry about being an expert at solving issues on WordPress websites only.

This again helps them to provide better support than any other type of hosting provider as they're only focused on hosting WordPress websites.
Daily Backups
All of the Managed WordPress Hosting providers come with the daily automated backup option included on their hosting plans. At least all the hosting providers that I know.

You can get the daily backup option with other types of hosting as well but only on good hosting with their high-tier hosting plans.
Some shared hosting such as Namecheap, GreenGeeks, etc. is terrible at keeping automated backups of your websites. So always make sure to always keep an offsite backup regularly.

However, with good Managed WordPress Hosting such as Rocket.Net, you'll never have to worry about those things. It's still a good practice to keep an offsite backup though.
No Downtime
With Managed WordPress Hosting, I've also noticed that the downtime is almost none. With SiteGround, I did get downtime like any other hosting but lesser than others.

On the other hand, Rocket.Net made me realize that it is possible to achieve 100% uptime for years.

That's right 100% uptime.

While I was using Rocket.Net, I only experienced downtime once for about 15 minutes when they were upgrading the storage devices with NVMe SSDs after almost 1.5 years.

Apart from that, my website never went down for any reason at all. Now that was a record-breaking thing for me in 8+ years of hosting websites on multiple platforms.
Extra Features Or Dev Tools
It is also common to get extra features or development tools such as staging area, in-built caching control, WordPress update management, etc.

I am a fan of the staging area features on SiteGround and other hosting providers and I feel like it should be provided with all the hosting plans out there.

Some shared hosting such as Hostinger, HostArmada, etc. also provides the staging area via cPanel but that's not as good as what you get with the Managed Hosting providers.
Better Statistics Of Your Sever
If you're a nerd that likes to look at statistics about your server or website then you'll be glad to know that all the Managed WordPress Hosting providers that I know have their own beautiful-looking analytics dashboard where you can see all the data and statistics about your website and servers.

However, I also understand that it might not be useful for everyone. So, you can also ignore it completely if you want.

If you're asking about me, I personally love them.

So, those were some of the common features that you get with almost all the Managed WordPress Hosting service providers.
Unique Rocket.Net Features
Now let's look at some of the special features that I like about Rocket.Net:
Delivered & Optimized By Cloudflare Enterprise
Normally I buy hosting from a company like Hostinger and then I use the free version of Cloudflare CDN with it to maintain a good TTFB and website load-time around the world.
(I highly recommend using NitroPack with those hostings by the way. Use promo code: BISHNU to save 5% extra.)

On the other hand, when you buy a hosting plan from Rocket.Net, you also get all the benefits of the Cloudflare Enterprise solution which is mind-blowing to me.

All your WordPress websites hosted here will automatically get optimized and cached on Cloudflare CDN.

This allows your website to load as fast as possible from the nearest Cloudflare server which is available in over 200+ locations around the world at the moment.

With Rocket.Net, you also get the following premium features of Cloudflare Enterprise for free:
And it eliminates the need for the following plugins/services:
Best In Class Security
Rest assured that your WordPress websites are well protected on Rocket hosting. Unless you do something stupid of course.

While they are using the 2 most powerful firewalls to keep your websites safe from those shady people out there, it also scans your websites for malware and vulnerabilities in real-time without impacting your website's performance.

This includes HTTP requests and even FTP uploads.

Their security feature includes:
In case, you are using some cheap or budget hosting the I highly recommend using Sucuri to protect your WordPress website. And if you're looking for an alternative to Sucuri, then iThemes Security could be a good option.
Rocket.Net Customer Support
When you pay a hefty amount of money for a service, you naturally expect good customer support service. I did too.

However, they actually exceeded my expectations.

The response time was super fast and they were so helpful in resolving my initial issues after I migrated to Rocket.Net from WPX Hosting.

They have ticket support and 24x7 live chat support at the moment but they don't have call support yet. In case that's important to you.
By the way, here's the video that I recorded during the migration/test:
Rocket.Net Pricing Plans
While I definitely think that the pricing is worth what you're getting on Rocket.Net, I also understand that some of you might feel it's expensive.

I'll be honest, I felt the same before migrating to Rocket.Net and trying it myself. I don't think this is the best choice for beginners but for professionals and businesses, it definitely is.

It's worth every penny you'd be spending on it.

Said that here are the pricing plans for their Managed WordPress Hosting:
Buy the way, you can save some more by switching to the annual plans as follows:
By the way, I still stand to my words. It's totally worth it!
Rocket.Net Performance Test
Here's a test result that I got on GTmetrix after switching to Rocket Hosting:
To see more reports, their dashboard, and the performance comparison with WPX Hosting, watch the video below:
Rocket.Net Pros And Cons
Now let's have a look at the pros and cons of Rocket.Net WordPress hosting.
Conclusion
Rocket.Net is one of the best "Managed WordPress Hosting" providers that I've used to date and I highly recommend it if you are a professional or business owner who is looking for hosting for your website.

Even their future is looking very bright as they're constantly updating and working on their services to make it the best Managed WordPress Hosting service provider in the world.

However, I also understand that their pricing might not suit most of the beginners or individual bloggers out there. In situations like that, I would recommend using WordPress hosting like Hostinger or cloud hosting such as Cloudways.

But if you can afford Rocket.Net, then there's no better choice at the moment and you should definitely go for it.