Elementor Black Friday Deals 2023 – Up To 50% OFF
Elementor is the best WordPress page builder for most of us. And to make it even more exciting, they are offering up to 50% OFF on their Plus plan or the Expert plan this Black Friday/Cyber Monday Sale 2023.
Elementor Quick Review
Quality
Elementor Pro is the most popular WordPress page builder out there on the internet. Everyone loves it and recommends it.
I have tested it myself as well and it is really worth purchasing. It's one of the best ones that you can get.
Support
Most likely you'll never have to ask for support. However, when you do, their support team will be there to help you out.
They also have extensive documentation and tutorials that are helpful as well.
Cost / Value
When it comes to comparing it with others in terms of price-to-value ratio then it's a clear winner.
This page builder is one of the best ones and yet its price is very reasonable and that makes it even better.
Note: Need help with the decision? Or maybe you want to learn it fast. Feel free to reach out to me for any help and premium freebies. I'll be waiting!
Elementor Black Friday Offer Details
This Black Friday, you can buy the Elementor Pro at 50% OFF during the sale period. It will start on 21st November and end on 30th November 2023.
Here is the pricing difference that this Elementor Black Friday offer is making:
| Plan's Name | Discount | Regular Price | Discounted Price |
| --- | --- | --- | --- |
| Advanced | 10.10% | $99 | $89 |
| Expert | 20.10% | $199 | $159 |
| Agency | 30.08% | $399 | $279 |
And if for some reason you also want to buy your hosting from them, then here's how the Elementor Hosting prices look like this Black Friday 2023.
| Plan's Name | Discount | Regular Price | Discounted Price |
| --- | --- | --- | --- |
| Basic | 46.70% | $179.9 | $95.9 |
| Business | 50.02% | $299.9 | $149.9 |
| Grow | 36.37% | $395.9 | $251.9 |
| Scale | 30.01% | $719.9 | $503.9 |
Please note that the Elementor Pro Black Friday discount starts at 10.10% OFF for their "Advanced" plan which normally costs you $99 a year. It's already too cheap so it makes sense.
However, on their higher plans i.e., Business, Expert, Basic, Agency, etc. you get higher discounts.
For example, the Business plan for Elementor Hosting normally costs you $299.9 per year but during this Black Friday/Cyber Monday sale you can get it for $149.9 which is a 50.02% discount.
The offers are also applicable for renewals & upgrades. Sweeeeet! Isn't it?
Now here's the offer summary again to refresh your mind.
Discount/Offer: This year you can buy Elementor Pro at up to a 50% discount during the sale.
The Sale Will Start On: 21st November, 2023
The Sale Will End On: 30th November, 2023
Elementor Cyber Monday Deals & Discounts
The Cyber Monday offer for Elementor PRO is the same as the Elementor Black Friday discount. The offer will be continued until Cyber Monday and you'll be getting up to 50% OFF on all of their plans.
Which Elementor Pro Plan Is Right For You?
The best person to determine which plan is the best suitable for you is, "you". However, in case you're getting confused or need a second thought, I want to help you out.
Let's begin with the Essential plan.
If You're Planning To Use It For Only 1 Website Or Want To Test It
If you're someone who owns only one website and has no plans to create another, then the Essential plan is the right choice for you. However, it is very rare! Most of us start with one website but end up creating more.
And I'm about 90% sure, that you would too. So please think about it before selecting the Essential plan.
Another instance where you'd buy the Essential plan is if you're buying it for testing purposes only or to create tutorials and stuff. I always do things like this with all the products so that I can review them.
So if one or both of the situation above is relatable to you then go for the Elementor Pro Essential Plan.
If You Are A Freelancer Or Have More Than 1 Website
If you are a freelancer making websites for your clients then the Expert plan is the perfect choice for you. It is also the right choice if you own more than 3 websites where you want to use the Elementor plugin.
With this plan, you can use Elementor Pro on up to 25 WordPress websites.
This is Elementor's most popular plan and I highly recommend getting it if the above criteria fits you.
This plan also includes the 20 Expert Website Kits and Expert Network Profile. Which will basically allow you to grow your freelancing career faster than ever.
Do you think you fit this criteria? If yes, they definitely go with the Expert plan(most recommended).
If You Are A Freelancer/Agency Managing More Than 25 Websites
If you are an agency with over 100 websites to manage, then the Agency plan is the right fit for you.
This plan allows you to use Elementor Pro on up to 1000 websites which is insane.
It also comes with everything that Elementor Pro has to offer.
So you're not missing out on anything by opting for this plan, in fact, you're getting everything.
Simply put, if you are someone who's managing more than twenty-five websites, go with the Agency plan.
Now if you are someone who doesn't know much about Elementor, I would like to clear a few things for you. Keep reading to find out why you should purchase Elementor PRO this Black Friday/Cyber Monday sale.
Why Elementor Black Friday Deal Is Awesome?
During the Black Friday Sale, you can buy almost everything at a discounted price. This increases the value of the products compared to the price you pay.
But some products are so good that they always seem worthy of the payment they are asking for. It's one of those.
As I said already, Elementor is one of the best WordPress Page Builders along with the integrated Theme builder. It has become everyone's favorite very quickly and is growing even faster now.
Even with its normal pricing, you get a lot more than what you spend and that is simply amazing. So when you are getting up to a 50% discount on it, that's beyond amazing.
Do you get the idea of why it's awesome now?
Few Reasons To Choose Elementor PRO
I think you already know about some of the features of Elementor but if you want to have a look at what Elementor PRO can offer you, here they are:
Easy To Use Drag-And-Drop Page & Theme Builder
No Coding Knowledge Required To Use It Or Understand
Industry Leading Elementor Theme Builder
In-built Popup Builder For Lead Generation & Sales
WYSIWYG Editor That Works On The Front-end
100+ FREE widgets, 70+ PRO widgets
400+ Built-In Elementor Templates That You Can Customize As You Like
WooCommerce Widgets & Blocks To Use
Less DOM Elements Compared To Other Page Builders
Elementor Dark mode
Elementor motion effects (Parallax)
Awesome Updates For 1 Year
Awesome 24×7 Support For 1 Year
Elementor Has Impressive Designs
Creates Responsive Web design Easily
Make Your Own Blocks & Templates And Save Them
And many more other Features And Services.
My Favorite/Top Features Of Elementor PRO
As I have used Elementor a lot, I would like to talk briefly about my favorite/top features of Elementor PRO. Please note that I'm not going to talk about all the features, just the ones that I love the most. Let's begin.
Live Drag & Drop Editor
The live drag & drop feature is innovative and futuristic. Who would have thought that someday it would be this easy to create websites?
Just drag and drop the blocks or elements you want and customize them however you like.
And that's it. No coding or high-level technical knowledge is required.
WooCommerce Builder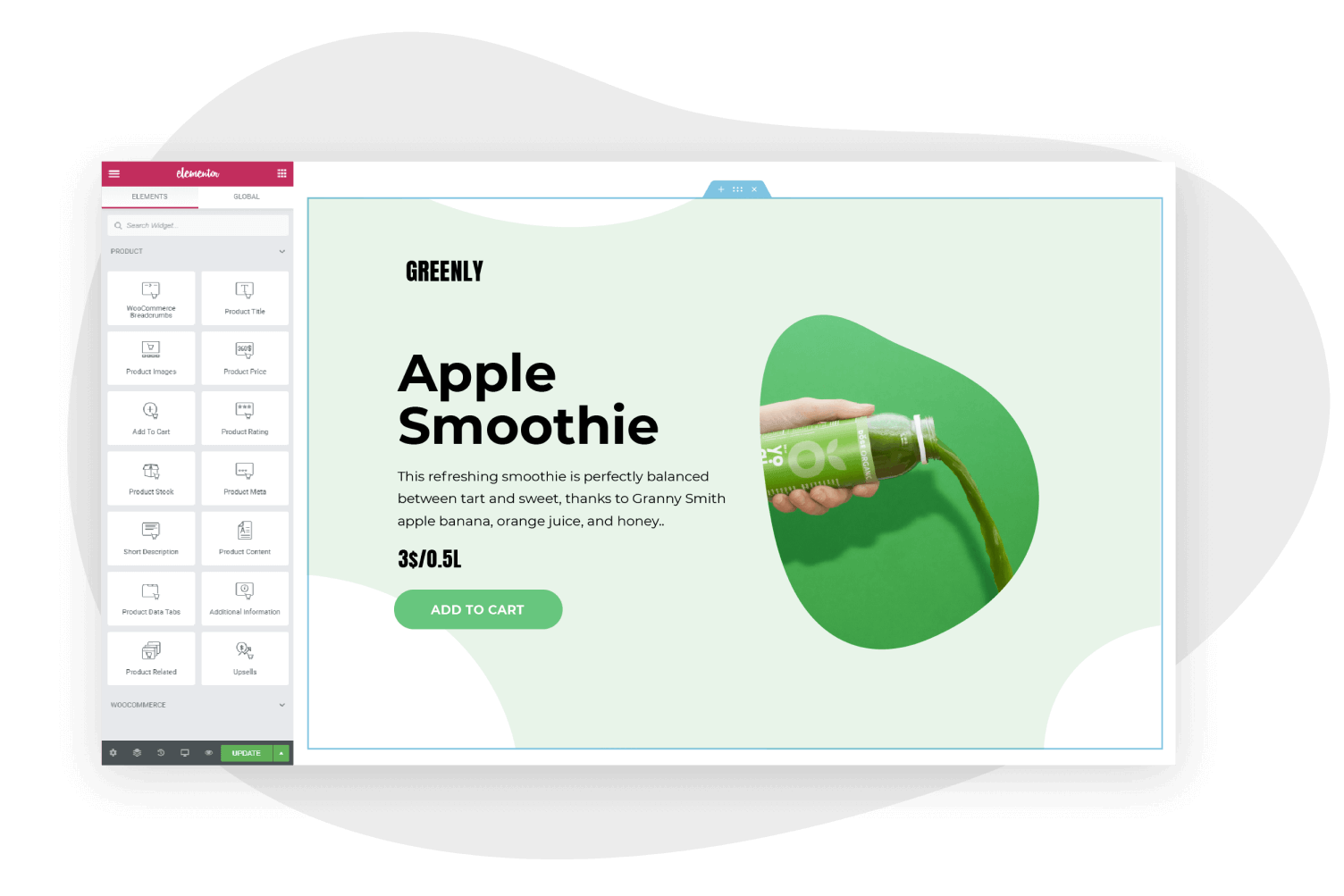 WooCommerce is one of the most powerful WordPress plugins that help you create your own eCommerce website. Before you had to either install a WooCommerce theme or use a theme that supports WooCommerce.
But you had next to no control over the designs and experience. WooCommerce Builder solves that issue.
Now you can customize your online store just the way you wanted with any theme you use with the help of Elementor PRO. Definitely, something that won my heart.
Pre-Built Landing Page Templates
It also comes with 400+ Pre-Built Landing Page Templates that you customize however you like.
These simple things allow you to get started with your website within just a few minutes and just a few clicks.
It's so impressive!
And the best part is that not all the templates are similar, instead, they have made templates for everyone's needs.
So be it a personal brand, service business, local store, or whatever, you'll find a template that's suitable for your needs.
Sometimes you won't even need to make any changes. They are that good!
So my advice is, you really shouldn't miss this awesome Elementor Black Friday discount!
Dynamic Content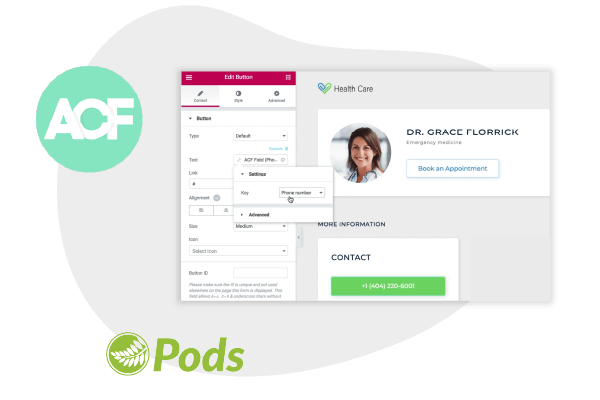 Dynamic Content is something that takes it to another level.
Basically, it allows you to choose from a bunch of dynamic options to pull content through.
For example, you can use this block to show the author's image, your site logo, blog title, custom fields, etc. anywhere you want.
Incredible right? To give you an example, I have used a lot of dynamically generated content on this page. Like the year 2022.
I have not written the numbers, it's dynamic and it will change each year automatically.
100+ Integrations To Make Your Life Easier And Work Automated
No matter how good it is, if Elementor didn't have this feature, I would probably never use it. I'm someone who likes to automate things as much as possible.
For example, I collect leads using the Elementor Popup Builder, which directly gets updated on my email list.
It also triggers my Zapier automation.
Which is so crucial to scale your business.
I literally pay services like Zapier to make things as smooth as possible. And of course, Automated!
So those were my top 5 features of Elementor Pro that I love the most.
But, As I said earlier, the list goes on.
For some reason, if you are still convinced that the free version is enough for you.
Let me tell you that, you are missing out a lot!
Here are some of the main differences between the free version of Elementor & Elementor PRO:
Elementor FREE VS Elementor PRO
| Features | Elementor Free | Elementor Pro |
| --- | --- | --- |
| 50+ Advanced Widgets | | |
| Industry Leading Theme Builder | | |
| Popular Marketing Integration | | |
| Front-End Form Builder | | |
| Awesome Popup Builder | | |
| WooCommerce Builder With 15+ Shop Widgets | | |
| Motion Effects Such As Parallax | | |
| Dynamic Content Capabilities | | |
| Custom Field Capabilities | | |
| Premium Support & Updates | | |
That's not all.
They have much more difference between their free version and the paid version of the Elementor PRO.
I've mentioned some of them that really made me buy the PRO version of the plugin.
You can learn more about the difference between their FREE version and PRO version on their official website.
Frequently Asked Questions
My last words, don't miss this offer or you'll regret it very soon when the price is higher. Trust me, I've been there. Grab this once-in-a-year Elementor Black Friday discount before it expires.
Build With Elementor!
Grab the deal before it expires and enjoy the awesome discount!